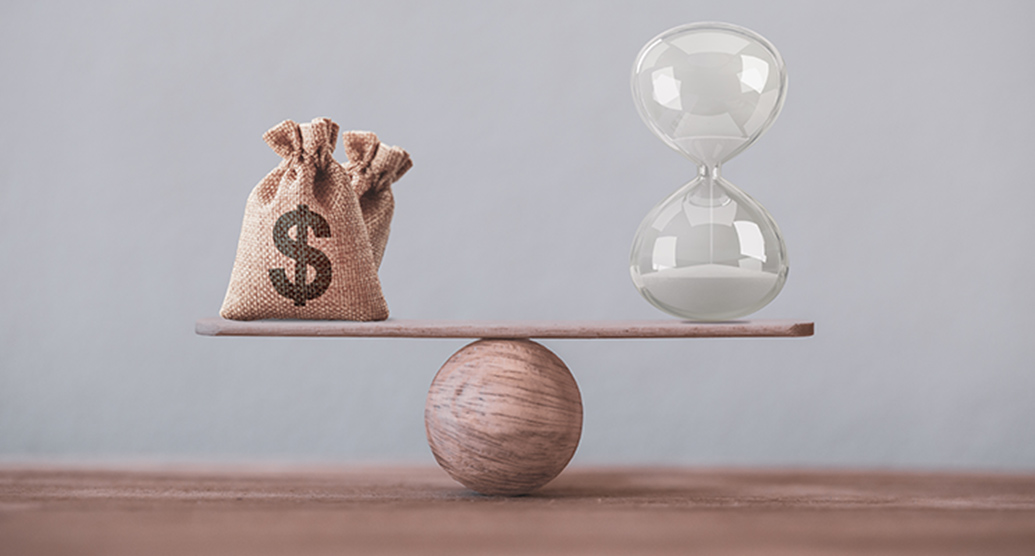 When you join LinkedIn, you start off with a free account. The free account is good, but for many people, it doesn't give them everything they need. The LinkedIn account you should have is determined by what you're looking to achieve on LinkedIn.
So, what are the other options?
LinkedIn Account Options
At the time of writing, there are nine other LinkedIn accounts.
There are two aimed at employees who are looking to "develop their professional skills" or to "job search with confidence and get hired". These are LinkedIn Learning Standard and LinkedIn Premium Career accounts which cost $19.99 and $29.99/month respectively when paid annually.
If you're a recruiter and looking to find and hire talent then there is LinkedIn Recruiter Lite, Recruiter Professional Services and Recruiter Corporate. LinkedIn Recruiter Lite costs $120 per month when paid annually. For the other two packages, you need to contact the sales team.
For business professionals who are looking to grow their network, there is LinkedIn Premium Business which costs $59.99/month when paid annually. There are also three Sales Navigator accounts (Professional, Team and Enterprise) that are aimed at those looking to grow their network, but also find and nurture leads effectively. These Sales Navigator accounts cost $79.99/month for Professional, $134.99/month for Team, and contact the sales team for Enterprise.
In the rest of this article, since this newsletter is about Sales and Marketing strategies, I will discuss the free, Premium Business, and Sales Navigator Professional account when used for the purpose of gaining ideal clients.
Free vs Business Premium vs Sales Navigator Professional for Gaining Ideal Clients
When considering which tool to use, the three things you need to consider are price, functionality, and effectiveness for what you are looking to achieve. There is no point in trying to use a tool for something it's not designed for. But in the same token, there is no point paying for functionality you don't use.
Comparison Table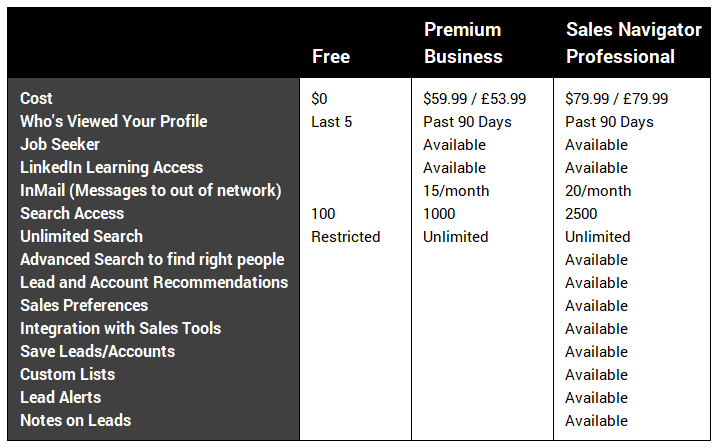 Price
From a price perspective, there is no better price than free. The price difference between Premium Business and Sales Navigator Professional equates to $20 per month in the US and £26 in the UK. One of the differences between Premium Business and Sales Navigator Professional is 5 extra InMails per month. Looking at LinkedIn's pricing guide, the cost for 5 InMails is £39.54. This is actually larger than the difference in cost between the two packages.
Functionality
As you can see from the table above, the free account has a number of limitations. Premium Business has more functionality than the free account but Sales Navigator has a lot more functionality than Premium Business. As I have mentioned already, the functionality you require is dependant on your individual circumstances but also on whom you're looking to reach.
Effectiveness for Gaining New Business with Ideal Clients
With the free account, you can search and find contacts, reach out to them and connect. The problems you may face is access to all your ideal prospects and also the time it takes to re-do searches to try and find all of them. The free account is a great starting point, but if your goal is to gain ideal clients in an effective way then wasting time and not being able to search freely is not the best use of your time. If you are targeting a very small niche of companies then it may be good for you. However, for the vast majority of business professionals, you are best to pay for a more comprehensive tool.
Premium Business is described by LinkedIn as recommended for "people looking to grow their network". The account does give access to more results than the free account and there is unlimited search. However, there is not enough value in Premium Business compared to what Sales Navigator Professional offers for me to recommend it to anyone who is looking to find, reach, gain the attention of, build trusted relationships and convert your ideal clients. Ultimately, if your requirement is to generate leads and track them through a sales funnel so you can focus on those that are most likely to become clients, this is not possible with Premium Business.

Your Sales Funnel in Sales Navigator
In order to run effective campaigns to gain new business from your ideal clients, you need to take them through a sales funnel. I have outlined the stages in the image below and I will walk you through each stage.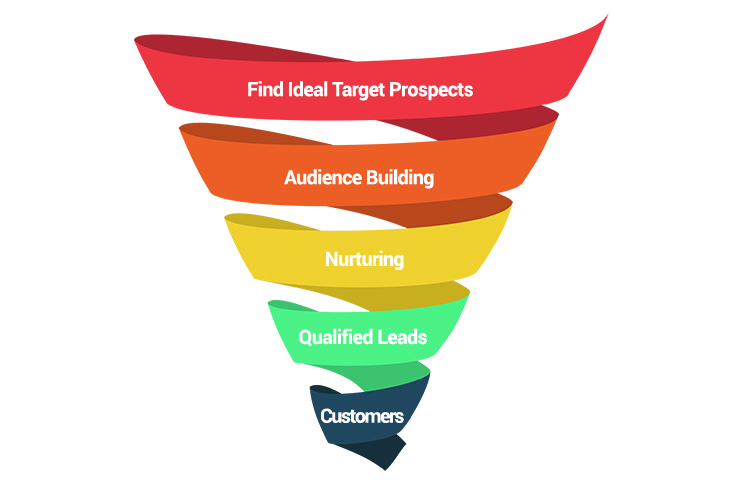 Find Ideal Target Prospects via Search
Finding your ideal target prospects is done via search. Your goal is to find your best customers on mass. The more targeted the search is, the more likely it will contain your ideal target prospects. The Search is absolutely vital because it's the start of your funnel so the more targeted you are here, the more effective your whole campaign will be. Get targeting wrong and you will waste time, money and energy on people that are not likely to buy and you'll not get the returns you're looking for.
Think of your best existing customers. Look at their LinkedIn profiles and take note of their job titles, company sizes, industries and all other information that will enable you to find more of them on mass. This groundwork will help to define your buyer persona, but it will also help you to find them using Sales Navigator's search.
It is vital you do this foundational work before you get to Sales Navigator's search. Too often I've seen searches that clients have set up themselves in which the groundwork has clearly not be been done and resulted in poorly performing campaigns. It's worth spending that little extra bit of time as this effort will translate into better results.
Sales Navigator's Search
Sales Navigator's search, not only contains many more search filters than the search found in the free and Premium Business accounts, but the functionality is much more sophisticated. This additional functionality is important because it helps you to get super targeted and niche right down to those people who are your ideal target prospects and likely to buy from you.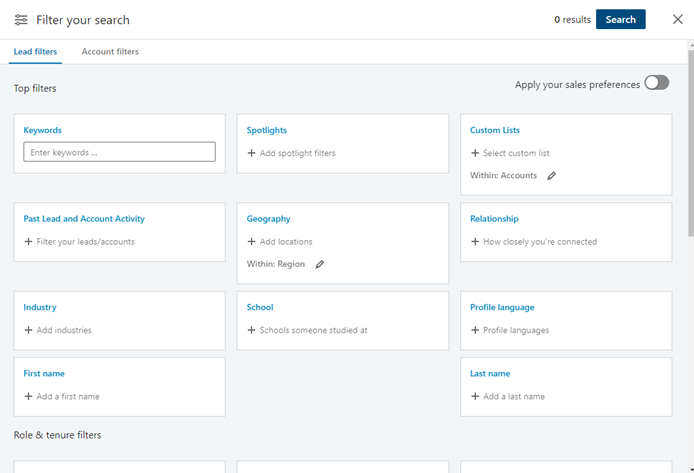 Sales Navigator's Search Functionality
In this article, I'm only going to look at three examples of the additional functionality you get in Sales Navigator's search compared to the search available in the free and Premium Business accounts to give you a flavour for the extra functionality.
Of the many additional filters found in Sales Navigator, one of the most useful filters is the 'Posted on LinkedIn in past 30 days'. By using this filter, you can find and reach people who are actively using LinkedIn. This is useful because not everyone on LinkedIn is active. There are 3,000,000 people on LinkedIn who create content every week. Then you have others who don't create content very often but network and engage with content produced by others. Lastly, there is the group who rarely log in and only do so to update their profile, for example, when they move jobs. The 'Posted on LinkedIn in past 30 days' filter finds those you can guarantee are active and so are more likely to engage.

Sales Navigator's search provides the functionality to include but also exclude data in a number of its search filters. This functionality provides greater flexibility when searching and allows you to tailor the search to more targeted requirements when looking to find your ideal target prospects. This functionality is extremely powerful but underutilised by many Sales Navigator users.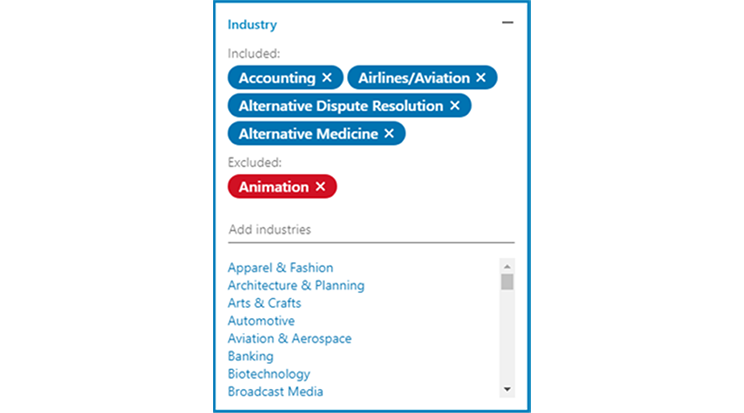 The Titles of your contacts are vital and are the single filter that is in every single search because you need to identify people who are decision-makers and can potentially buy from you. The Title search filter in Sales Navigator suggests job tiles for you to help identify the decision-makers you want to get in front of. In the free and Premium Business, you need to come up with the Titles yourself.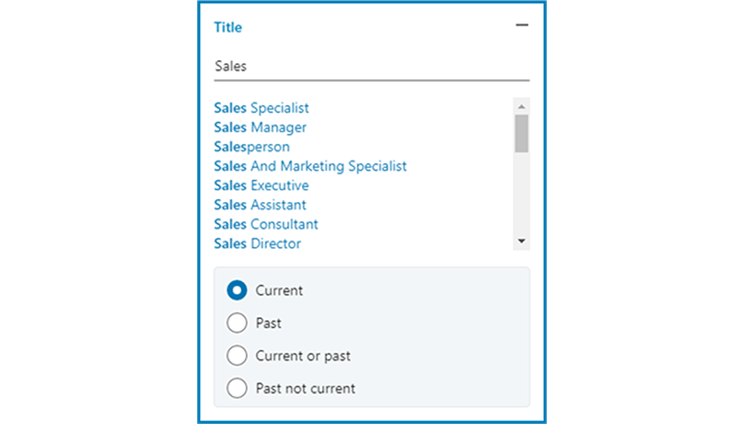 Audience Building
Growing your audience of highly targeted 1st connections whom you can market to forever is extremely important. Before you start reaching out to your ideal prospects though, you should undertake groundwork to ensure your positioning is spot on so that your ideal prospects will accept your connection messages.
This groundwork includes ensuring that your LinkedIn profile is 'ready' for your prospects to view. For example, your profile photo should present you as approachable and professional. Your headline should resonate with your audience. You should provide your potential clients with 'evidence' on your profile that you are a credible supplier. You can achieve this by adding case studies and other valuable assets to showcase what your offer is within the 'Featured' section. Social proof can be provided on your account through recommendations. If you don't have any recommendations yet, speak to existing customers and seek ones from them. Buyers are sophisticated and will do research. You need to convince your ideal prospects that you are worth connecting with.

In order to grow an audience of connections, you also need to send a connection message they will accept. Sounds very simple but many people on LinkedIn don't connect because they assume they will be sold to immediately. While others only connect with people they know. Your message should portray you as one of the good guys so they let you into their LinkedIn world.
Nurturing
Growing an audience is great but this in itself will not necessarily deliver any results. When you connect with your ideal prospects they become aware of you but don't know you. Gaining connections is the start of your relationships with your ideal prospects so very few are likely to engage beyond pleasantries.
On average only 3% of your audience are 'Ready to purchase' at any particular point. A further 7% you connect with are 'Open to buying, but not looking'. This means that at any one point, a maximum of 10% of your audience could potentially buy.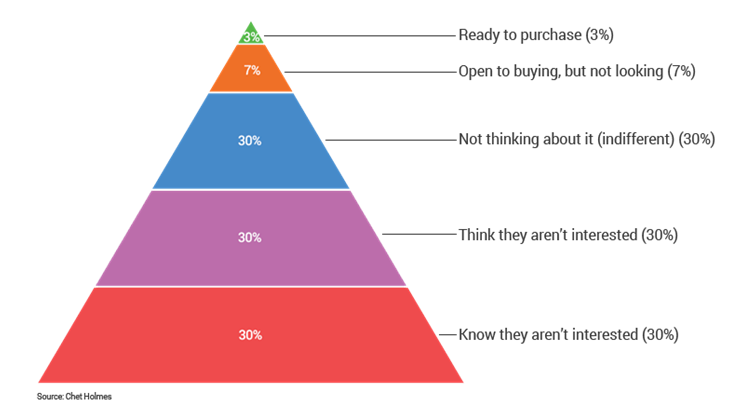 In order to stay top-of-mind with ideal prospects until they are in the 'buying zone' you need to generate meaningful touchpoints. Touchpoints can be generated via both outbound and inbound activities, which include: value-adding messaging, content creation, thoughtful commenting, LinkedIn Live, and LinkedIn Newsletters.
Qualified Leads
Generating leads is one thing but generating the right leads is something completely different altogether. Sales Navigator's search is crucial for finding your ideal prospects. The nurturing touchpoints are there to gain attention and generate interest, but also can be used for qualification. The sales development process requires following up with leads and qualifying them in or out. In order to do this effectively, requires a way of organising them.
With free & Premium Business accounts, there is no way to segment and track ideal prospects within LinkedIn. This means you either, do not track leads at all, or you spend lots of time tracking them using a spreadsheet. The other option is you put all the leads into a CRM. However, many CRMs charge per email so this can become costly (as well as potentially timely) if you track all who have shown some interest.
Sales Navigator can be set up to segment and track contacts into where they are in the sales funnel. Thus facilitating the sending of relevant messaging touchpoints to groups of ideal prospects. The ability to segment and track in Sales Navigator is a massive time saving and assists in helping you remember whom to follow up with.
Not following up enough is the number one reason leads don't convert. According to Microsoft, 89% of salespeople give up after 4 contacts. Through the various outbound and inbound activities, as well as sales touchpoints, keeping in touch with leads in a meaningful way is much easier if you add and segment them in your Sales Navigator's sales funnel.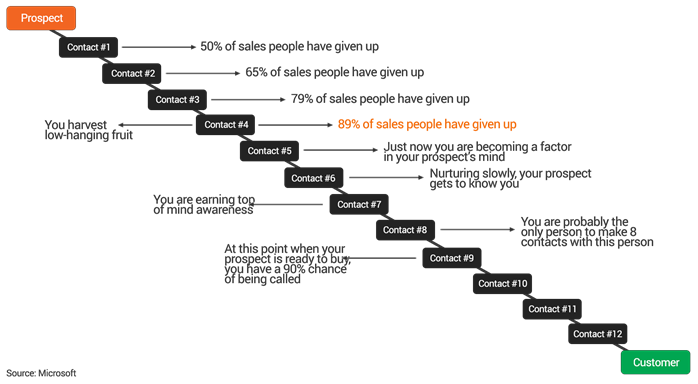 Customers
Sales Navigator is not only helpful for your ideal prospects and leads but is useful for organising your customers too. It can be used to develop the relationship you have with your customers yet further. Clients can be segmented to organise obtaining testimonials, introductions, referrals, for buying more products/services or even for entering into partnerships.
Conclusion
The problem right now is, many LinkedIn users are currently on free or Premium Business plans and are trying to use these accounts to generate and develop leads, but they're not using the best tool.
If you're on a free account, ask yourself a few questions. Are you reaching enough people? Are they too general and not targeted enough? Are you spending lots of time moving data around? Are you getting the results your time deserves? The free account has a great price but does eat up a lot more time. Time is the most precious resource we all have and the majority of people don't value their time enough.
If you're on the Premium Business account and you're on the fence about upgrading to Sales Navigator, you are already paying LinkedIn, so why not get a tool that will serve you better, save you lots of time, and doesn't cost that much more. LinkedIn offers a 30-day trial to try it out so no risk. Even better, speak to an existing Sales Navigator user and they can give you a 2-month free trial. Sales Navigator users get 10 referrals, so speak to them nicely!
Do check you're on the right LinkedIn plan for what you want to achieve on LinkedIn. If not, make the switch because if you don't, it will cost you in terms of lost opportunities and wasted time. Waiting to switch is costing you more than you think.