LinkedIn is a constantly evolving platform. Over recent years changes have come from both the user base, but also from the platform itself.
When Microsoft bought LinkedIn in 2016, fairly quickly the focus shifted heavily towards generating revenue. Functionality was stripped out of free accounts and the pay for play model became more evident. Creating content became much more of a focus with the emphasis swapped from creating articles to posts because that's where the adverts were. Impressions equal dollars. Throughout the following years, more functionality was released to users to enable us to keep people on LinkedIn's platform, but also to reach our ideal clients.
Many LinkedIn users over the years have relied on playing the numbers game by sending mass connection requests and then following up with cold sales messaging. 2021 saw LinkedIn implement a 100-connection request limit per week to help reduce numbers sent. Before this though, this cold outreach strategy had already had its day as users became more hostile towards these cold requests. The majority of people are on LinkedIn to network, build relationships, learn, and certainly not to be sold to on message 2!
The challenge for LinkedIn users who are looking to use LinkedIn as a business development tool is how best to navigate the invite restrictions and keep building an engaged audience whom you can touch often in multiple meaningful ways. The quick answer is being much more targeted and strategic. The longer answer is laid out in this article.
Effective Use of Resources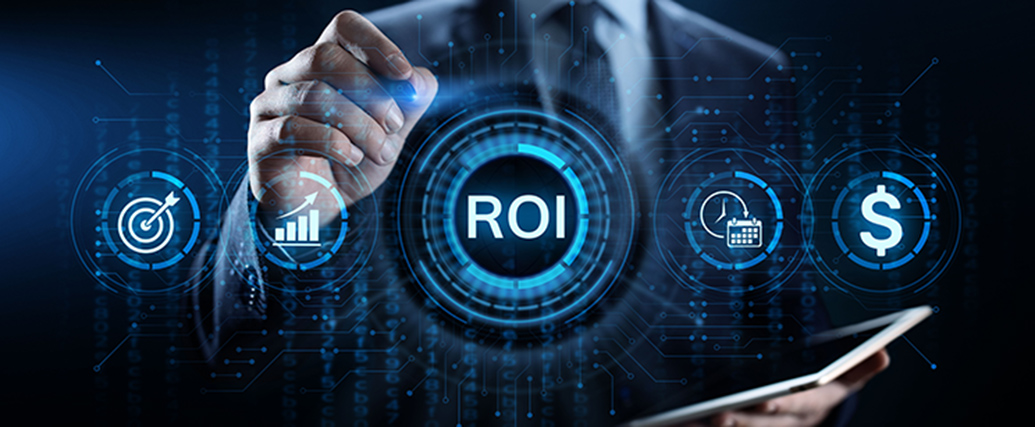 The goal of marketing on LinkedIn is to reach, engage, build relationships, and start conversations with people who can potentially buy from you. However, it is important to do this in the most effective way.
The majority of active LinkedIn users (68%) spend more than 15 minutes every day on LinkedIn activities with 24% spending over an hour every day. Of this 24%, many are spending upwards of 4 hours per day on LinkedIn activities which includes reading others content, creating content, and building their network. However, the majority of LinkedIn users do this without a strategic intention behind these activities.
It is important to be mindful of your own time. Your focus should be to maximise the return for your money, time and energy. Any marketing spend needs to generate an acceptable return for your investment. If it doesn't, then you need to make changes so your efforts are rewarded. In order to help you to maximise your time, following a proven system is the best way to achieve this.
The Boost System
I have been involved in formulating LinkedIn strategies since 2014 and started teaching others in February 2015. As part of my learning, I quickly realised I needed to develop a system that would help me to consistently implement the actions necessary.
The system I developed back then to enable me to generate opportunities consistently is called the Boost System. Despite the changes in LinkedIn over the years, this model still holds true today but required some tweaks along the way.
The system comprises of 5 main steps: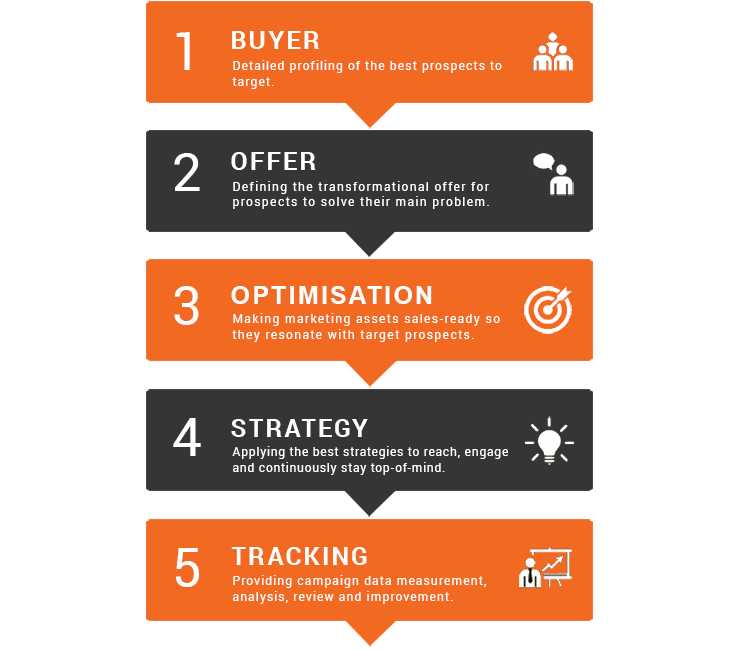 Step 1. Buyer
Identifying your ideal buyer is crucial. You should ask yourself who is it that will make (or influence) the buying decision for the most pressing problem you can help with? Who is most likely to give you the most money with the least resistance?
Your 'who' should be someone you can actually help. It should be someone you can define, but also someone you can find reasonably easily (via search) on LinkedIn. You should always take into account market conditions as this may impact your choice.
Whom you choose to target is the most important part of your whole campaign. If you get this wrong, you could fill the top of your funnel with people who aren't interested in what you offer.

Step 2. Offer
What solution are you going to present to the Buyer to help them with their most pressing problem? This solution needs to solve their problem and be relevant to them right now, or they will not be interested.
It should be simple and straightforward so the buyer understands it, so they can say "I want that." Revenue and sales cycle length of potential solutions can also be important.

The Buyer and Offer steps are the foundations that the whole campaign is built upon. This groundwork is crucial to the success of the campaign and should not be rushed. Your aim is to ensure your most relevant offer is put in front of the best buyers to solve their main pain point. Get this right, along with other factors like timing, trust, and credibility, and you will generate a steady flow of leads.
Step 3. Optimisation
Without marketing assets that build trust and resonate with your buyers, the campaign will fall short. Get your positioning wrong and you will fail to capture and keep the attention of your buyers.
So, from the text on your LinkedIn profile to the content you produce to the saved searches and the messages you send, these need to be relevant, build trust and position you as the perfect provider to solve the pain your ideal prospect has.

Step 4. Strategy
Every day we are inundated with thousands of outbound marketing interruptions per day. The average buyer is getting smarter and ignoring or blocking these interruptions.

So how can you gain the attention of your ideal clients?
Build an Audience
In order to gain our ideal client's attention, we need to become visible to them. They need to know we exist. Gaining attention with no audience is virtually impossible.
As part of your weekly activities on LinkedIn, you should be growing your network of ideal clients. To do this, you need to send connection messages to them. Your goal is to get a connection with these ideal clients and not to sell to them. They don't know you at all and you have not yet built any relationship or trust with them.
With the weekly restriction of 100 connection requests, you need to make sure your weekly allowance counts. Without growing your audience consistently, you will be restricting the effectiveness and performance of your efforts on LinkedIn.
If some of your ideal clients create content on LinkedIn, it's a good idea to follow and engage with some of their content before sending a personalised request. Doing this increases the chance they will accept your connection request. For Sales Navigator users, use the 'Posted on LinkedIn in past 30 days' filter to easily find your ideal prospects that create content.
Content Creation
The number 1 activity that active LinkedIn users do is read others content. Therefore, those producing content have a great opportunity to get eyeballs on their messaging and offer.

New functionalities have come on LinkedIn over recent years, presenting members with new opportunities for engagement. A recent example of this was the introduction of Creator Mode in March 2021. Creator mode presents LinkedIn members with new ways to reach and engage with other LinkedIn users and to build a personal brand.
Creator mode is an indication of the direction of travel for LinkedIn over the coming years. LinkedIn is providing its members with more tools to encourage them to produce more content, to generate more engagement, which results in more impressions, and more advertising revenue for them.
This is not just a win for LinkedIn, but an opportunity for those who create content to reach their ideal clients more easily. Producing content is a way to attract those that can potentially buy from you. The funny thing is though, only 1% of LinkedIn's active users create content.

Creating content is great to gain the attention of your audience and generate interest. But there is a more effective way.
Fusion of Strategies and Segmentation

The optimal solution is to implement a combination of both inbound (content) and outbound (messaging) strategies. For example, if you have written a post that is targeted at your ideal clients it will likely attract your ideal clients who are interested in that topic. For targeted 1st connections who show interest and comment on your post, make sure you respond and look to enter into a conversation with them. They are taking time out of their day to engage with your content. Far too often on LinkedIn, I see comments not responded to. What message does this send out to potential clients and wow what a missed opportunity!
The added bonus of engagement from 1st connections on your post is that this interaction (and the LinkedIn algorithm) helps your post become visible with contacts who are not in your network. For those that comment, once again there is an opportunity to enter into a conversation, but also there is the opportunity to grow your network with those that are targeted contacts.
Similarly, other content types like newsletters, LinkedIn Live and polls present opportunities to enter into conversations and grow your audience with warmed up contacts. LinkedIn polls present an additional opportunity for you to ask targeted questions to which the respondents, by voting, tell you what they need help with. Following up with respondents is a gilt-edged opportunity.

The goal is to attract your ideal clients and essentially get them to stick their hands up to say they need help. To achieve this requires creating content that interests them, but also presents you as someone that can help with the problem they have.
For Sales Navigator users, they have functionality within the platform that enables them to segment those who engaged with their content (poll responses, comment and/or reactions – likes etc) and pro-actively follow up with more targeted content that digs deeper into the particular area of interest.

Creating content without an audience doesn't work on its own. For best results, you should continually build an audience who then have the opportunity to engage with your content but also help attract others to whom you can send connection requests. Together in this way, your audience grows from both pure outbound methods and the fusion of content attraction and outbound messaging.
Your success on LinkedIn depends on successfully fusing these inbound and outbound strategies together, but also executing these strategies in an effective way. This will result in fostering relationships with people who have shown interest in what you offer, getting into conversations, building rapport and trust, and gaining new clients.
In 2022, you need to attract and keep the attention of your ideal prospects by creating highly relevant content consistently and generating meaningful touchpoints with them to stay in touch until they are ready to buy. Only by doing this will you maximise the returns for your efforts and deliver excellent performing campaigns.
Step 5. Tracking
It would be great if everything fell into place straight away. Tracking enables you to measure the results of the campaign and to identify potential issues at an early stage.
The goal of any campaign is to maximise sales, marketing effectiveness and performance. To do this requires analytics at the heart of the system to ensure issues are identified and improvement is achieved.
At every stage of your sales funnel, you should be tracking your conversion rates. What is your acceptance rate for connection requests? What is your close rate? Without this data, you're simply guessing and potentially wasting valuable resources.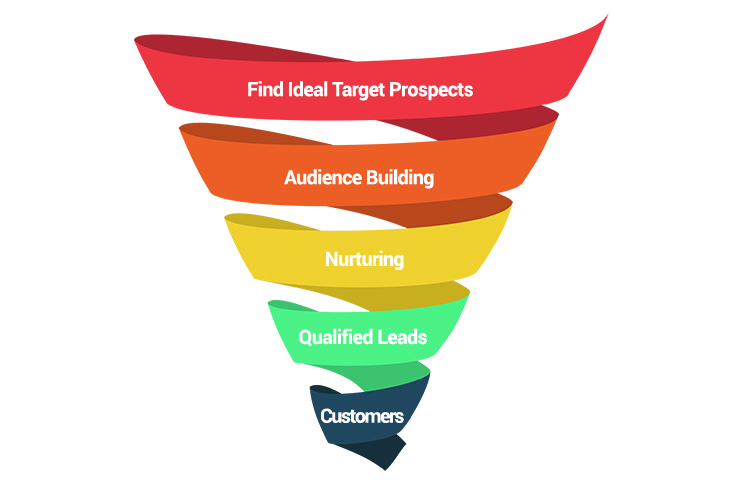 Tracking though presents other benefits. By knowing who has engaged with your content, how many times they have engaged and with what types of content, presents you with an opportunity to identify the most engaged prospects.
Knowing this means you have the ability to send the most engaged users' additional resources. But moreover, it helps you to identify where best to devote your time to close new clients. In Sales Navigator, users have functionality that is capable of doing this. A topic for another day.
Conclusion
LinkedIn is in constant flux. Too many people are spending too much time doing the wrong things and following outdated strategies. They are not following a plan, are not being intentional, and not reaping the rewards for their efforts.
To be successful on LinkedIn in 2022, your LinkedIn strategy needs to be super-targeted and super-relevant. You need to find and build an audience of ideal prospects. You need to gain and keep the attention of this audience by consistently creating highly relevant content that helps form strong relationships built on trust. For those that engage with your content, you need to follow up in a strategic but authentic way so you get into meaningful conversations with people who can buy from you. By segmenting and tracking your audience, you gain insight into where to focus your attention and where to make improvements.
By following this structure, you will not only gain new ideal clients that need and want your help, but you will also maximise your opportunities and time investment on LinkedIn. If you keep doing what many on LinkedIn are doing, you'll burn through lots of time with not much to show for it. 2022 is the year to get more strategic, organised and get the results your efforts deserve.