Robust B2B Marketing Strategy
Our proven sales and marketing strategies and systems help you unleash
LinkedIn's potential to improve business effectiveness and performance
Book Discovery Call
The Boost System
For a business to grow it needs a consistent throughput of quality targeted sales opportunities. 90% of businesses report that they struggle to generate new leads; furthermore, since the advent of GDPR, building a targeted audience has become more difficult.
Best in class business leaders will tell you that a proven system is the secret ingredient to their success. This is where the Boost System comes in.
The 5-Step System
The Boost System follows a 5-step process.
Steps 1 – 2: The Foundations
Steps 1 to 2 are the foundations that the whole campaign is built on. The aim is to ensure the best offer is put in front of the best buyers, to solve their main pain point. This groundwork is crucial to the success of the campaign and should not be rushed.
Step 3: Optimising the marketing assets
Without marketing assets that resonate with your buyers, the campaign will fall short. The foundation work is crucial because it filters into every element of the campaign, from LinkedIn profiles to messaging sequences and from saved searches to content. If you get the message wrong you will fail to capture the attention of your buyers.
Step 4: Strategy Execution
Once all elements for the campaign have been set up, it's a case of executing the campaign. Sending connection messages to the target prospects in the searches, engaging with your new audience and staying top-of-mind with those who don't buy immediately.
Step 5: Tracking
It would be great if everything fell into place straight away. Tracking enables us to measure the results of the campaign and to identify potential issues at an early stage. The goal is to maximise sales and marketing efficiency and performance through a structured approach in which analytics sit at the heart of the system and ensure improvement is achieved.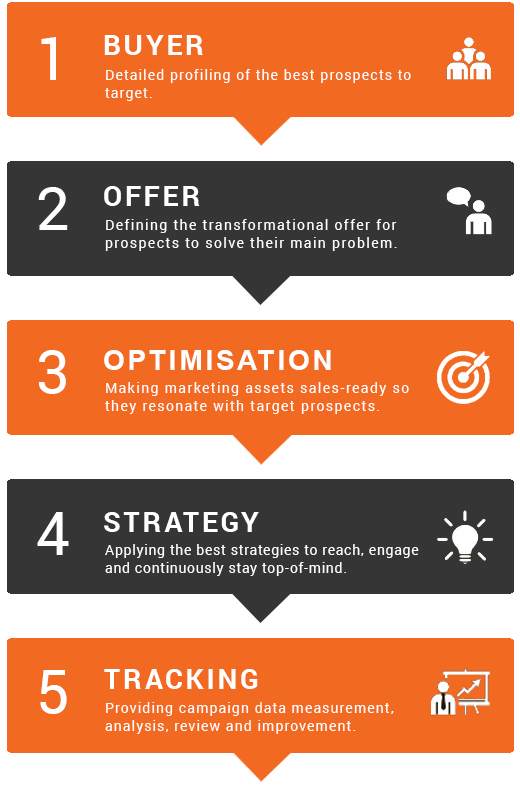 Sales Teams
We work alongside your Sales & Marketing teams to
help maximise the opportunities on LinkedIn to improve
the performance of campaigns.
Learn More
Business Leaders
As the leader of your organisation, your personal brand is far
more effective at promoting the business and developing
opportunities than the company brand.
Learn More
Book Discovery Call
Looking to increase brand awareness, build an audience of highly targeted prospects and generate quality MQLs? Start today by booking a call with us.